How to implement the Quantity box beside the "BUY" button at your item/product pages
By default, the Yahoo store system does not include a quantity box on its store pages. After a few changes in the RTML template it will be possible to apply this feature, and customers will then have the possibility to order more than one item.
First, make sure you have editable copies of your store RTML templates.
Now open the page with a list of store Templates.
Find the template that corresponds to adding the items to the shopping cart. Because it is a copy of a default template called add-to-cart, it will be named something such as, your-store-add-to-cart. Click and open it.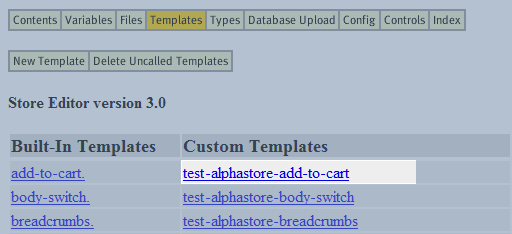 Now you will see the template content. At this point, we recommend you make a copy of your existing template by clicking the Copy Template button (just in case if you need to restore it).
At the top of the template content click the operator "IF". It will become active (not linked, black colored).
Click the button [NEW] at the toolbar. There you will see a selection field called "Complex", scroll within it to find the operator "INPUT".
Click the button [CREATE]
The newly created operator will appear in the "basement" area, below the template content. We need to place it before the recent operator IF.
Now, "IF" is active. "INPUT" is in the basement. Click the button [Replace] in the toolbar. These operators will then rotate their places: "IF" will go to the basement area, "INPUT" will become the first operator (active). Now click the button [Paste After] and then "IF" will be replaced after the "INPUT".
The last step is to customize the operator "INPUT".
Click it to make it active. Click the button [EDIT] in the top toolbar. Define the following values:
Name – :vwquantity
type – :text
value – 1
maxlength – 3
size – 3
Click [UPDATE]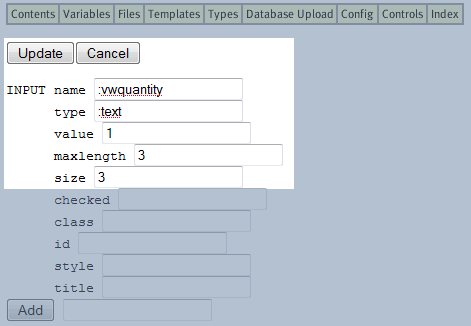 All done. The quantity box will now appear at your store item pages.
Tags: RTML Programming, RTML Templates, Yahoo Commerce, Yahoo Development, Yahoo ecommerce, Yahoo Store, Yahoo Store Customization
This entry was posted on Friday, March 11th, 2011 at 1:16 pm and is filed under RTML: Tips & Tricks. You can follow any responses to this entry through the RSS 2.0 feed. You can leave a response, or trackback from your own site.
2 Responses to "How to implement the Quantity box beside the "BUY" button at your item/product pages"
Bowser says:
Aliss says:
Leave a Reply