How to define "FREE SHIPPING" over a certain amount and how to apply it to different UPS shipping methods
Storeowners who use flat rates, custom rate tables, or other custom methods, are able to define "Free shipping" by adding new conditions to previously defined rules. But how does one define "Free Shipping" if one is using UPS' built-in methods (UPS Real-Time Rates)? How does one set-up rates that are followed by a statement that says: "Free ground shipping over $100 of your order"?
It's pretty easy:
1) In the Store's Shipping Manager go to: Store Manager > Shipping Manager > Ship Rates
Click the "Add Rule" Button, Select location, then on the next page select the UPS Ground method (or any other listed methods based on your preference). Click "Next".
2) On the next page select the "Rate Table" radio button and proceed to the next page.
3) On this page select "TAXABLE_AMOUNT" from the first select box and then change the second line of the table with these following statements:
a) From: 100 (do not write the dollar/cents sign)
b) Add: -5000.00 (input a large negative value to override any possible shipping charges calculated by UPS)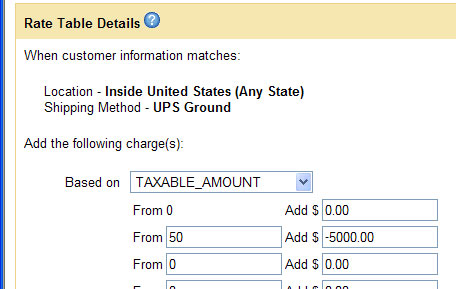 4) Click "NEXT". On the next page do NOT check the box "Apply ONLY this rule, even if other rules match".
Click "Done". Now you will see that the newly created rate table has been added to your list of Shipping Rates.
To test the new rule, go to "Shipping and Tax Test" page, select the "UPS Ground" shipping method, click "Calculate" and review the result.
Please do not forget to clearly explain a "free shipping" promotion to your store visitors. Add the appropriate notification to your store pages and to shopping cart pages.
If you would like to enhance the functionality of this option by having the ability to:
– Make it possible to show the notification text at your shopping cart pages upon different order conditions,
– Hide/show shipping methods depending on order "Ship To" address (i.e. display only "Second Day" if shipping to HI or AK),
– Exclude certain items from the "free shipping" promotion,
– Prevent placing orders with different shipping methods together in the same basket (i.e. item with the "second day" only method and item with "freight" method only),
– Display and submit a custom form at "Confirmation" page (i.e. "Prescription" form)
Please call us at 908-338-3992 or send us an e-mail to discuss your request or to talk about any other custom modifications.
Tags: Yahoo Commerce, Yahoo Development, Yahoo ecommerce, Yahoo Store Development
This entry was posted on Saturday, April 16th, 2011 at 3:26 am and is filed under Yahoo Store Editing: HOW TO. You can follow any responses to this entry through the RSS 2.0 feed. You can leave a response, or trackback from your own site.
Leave a Reply