As you already may know (from the Yahoo User Guide), the Contents Tree page is located in the Advanced Toolbar ( a button called "Contents"), and it includes important advanced store functions:
1) The Contents page is the fastest way to access the store's RTML Templates (by clicking the "Templates" button).

2) The Contents page displays the store structure visually (the store's Content Tree).
All page IDs listed under the link INDEX are considered as "structured", or included in the store structure.
Below the structured page IDs there is a white gap (white spot), which separates the "Structured" area from the "Basement", a special location that holds non-structured pages.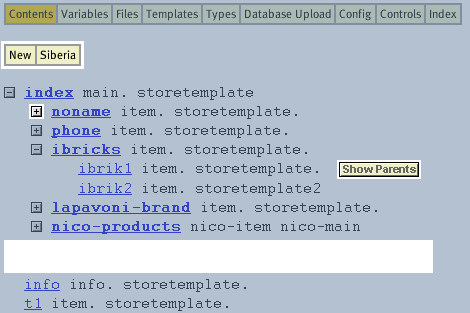 Not all pages need to be structured (i.e. special system pages norder, nsearch, ind, etc.), but don't forget to keep this area maintained on a regular basis. Keep in mind that unstructured pages are not visible in the store Menu table and will not leave behind a "breadcrumbs" link trail.
To "structure" a section page, simply list it within the Content property of the home page (Index). Only list a main section pages to avoid a "Number of Menu Links limitation" reminder.
The "+" sign is located next to a bolded section page link, and opens up to reveal other ID's ("child" IDs). The section page is a "Parent" for all the pages listed within.
If the page ID has a small button [SHOW PARENTS] from the right side, you could click on it to reveal all parent pages of this page. It is very useful if you have a page listed in multiple categories and need to find out where they are all located.
3) The Contents page has a unique button [NEW]. This is the only place in your editor to manually create store pages with a custom page ID (for instance, keyword-related page ID) and to select a desirable page type from the list (drop-down menu).
4) The Contents page has another special area called "Siberia" , which appears after you "CUT" a page.
If you remove your pages from the store structure, they will be put into the "Basement." They could still be accessible from the published store by direct links; however, the pages that are "Cut" will be sent to "Siberia" (or the Clipboard) and could not be accessed or searched from within your on-line store.
You could use "Siberia", for example, to store unavailable products if you are planning to use them in the future.
If you end up having a lot of items in Siberia, keep them organized:  create a page called "Unavailable Items", cut it and then list all the Siberia IDs in the content of this page. From now on, you will only see the link "Unavailable Items" at your Clipboard.

In an RTML Template the "<" operator looks like:
< value1 nil
  value2 nil
The purpose of this operator is to compare two numbers. If the first argument is less than the second one, then the operator returns "true".
This operator could be used in combination with "IF", "FOR" and "WHEN" operators.
EXAMPLES:
WHEN < value1 @custom-variable
       value2 20
  TEXT "Your number is less than 20"
So, if the number defined in the custom property "custom-variable" will be less than 20,  then the text  "Your number is less than 20" will appear at the page spot.
If you didn't already know, the Yahoo built-in function "Multiple Image Upload" (located at the "Control" page) does not allow you to upload Icon and Inset images.
Usually you have to go through all the pages manually and upload the icon or inset one by one, which takes up a lot of useful time.
How this process could be automated:
You can use a combination of two procedures: "Database Upload" and "Multiple Image Upload."
1) Create an Excel .CSV spreadsheet file with two columns: ID and Icon
In each row enter the corresponding values that apply to the two columns: the page ID (where the Icon or inset should be uploaded to) and the image name (without the file extension). List as many page ID's as you need.
Save this file in .CSV format and upload it to your store using the "Database Upload" feature. Make sure that you click the ADD button when uploading. Never click the REBUILD button, because it will wipe out your entire store content.
2) Create a ZIP archive with all the images you had listed in your .CSV file. Upload this file through Yahoo's "Multiple Image Upload" feature.
From now on, all the pages listed in your spreadsheet will display the Icon image that you defined and uploaded.
3) Repeat these two steps for your Inset images. Instead of having an Icon column in your .CSV file, name it Inset and type in the inset image names for each corresponding page row.
You could combine the .CSV document to have the Icon and Inset columns in one file.
Pay attention: if the column Icon or Inset will have an empty cell, but the corresponded page already has these images uploaded, then the icon or inset will be erased from the page during the DB upload.
If you are interested in having more than one inset at store pages and want to have customized Inset names, visit our "Add-ons" page:  http://www.alphastoredesign.com/additions/multiple-insets.html
For more information regarding uploading .CSV data, please visit the Yahoo help page:  http://help.yahoo.com/l/us/yahoo/smallbusiness/store/edit/advanced/advanced-01.html
Click the red triangle in the Standard mode Editor Toolbar.

A second bar with additional yellow buttons will appear at the page toolbar:



Contents – to control your store structure (Contents Tree), page dependencies, "Basement" and "Siberia" areas.
Files – access to your store library /lib directory
Templates or page template – access to the last viewed store template (also the "shortcut" to templates library)
Types – access to the list of store page types, either default or custom (editable)
Database Upload – another access to DB upload with a wider list of functions comparatively to DB upload via Catalog Manager
Config – access to store properties
Controls – store editor settings, including the store editor Search page and Edit by ID function
Let's suppose that you've just opened a brand new Yahoo store account. You're excited and ready to put up your items for sale. But hold on a second. Before you upload the inventory items we insist that you follow these steps to create a list of Editable Templates.
By default RTML templates cannot be edited. To be capable of enhancing these templates, you need to make copies of all your base templates. This is a necessary step because afterwards, these template copies and newly created templates will have the possibility of being altered and edited.
As we have already said, you must make this list of Editable Templates before you upload any items because it will help you avoid the process of changing the templates for each item one by one.
So how does someone create a list of Editable Templates?
The first step you must take is to turn on the Advanced Editor Mode in the Control panel.

You will now see a second row of control buttons on the bottom of your main page

-Click on the tab called "Contents"
-In the contents page, click the yellow button named "Templates"
-Once you access this page you will see a list of all the templates.
-Find the template "Storetemplate." and click to open it.
-Find the "Copy Template" button and click it.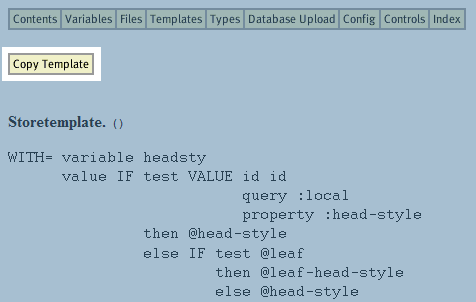 -There will be a field that will appear where you have to type in a name for the new template. An example could be, "New-Storetemplate"
-Click the "Copy" button.

Congratulations. You have successfully created a List of Editable Templates! To recap, this was made possible through a process of copying the parental template (Storetemplate). Afterward, the RTML system automatically copies subsequent templates on it's own, and all you need to do is apply this new template to your store pages by editing the store properties. This method will benefit you because you will have fewer pages to edit, and your workload will greatly decrease.
For example, let's edit the first page of the site (Home page). Open up the Home page and click Edit. Then within the "Template" property change Storetemplate to New-Storetemplate and click on the Update button. Do not worry; the page layout will remain the same, because the new template is the exact copy of the old one.
Finally, all you need to do is apply some changes to the Config page. This is marked by a yellow button called "Config" at the top or bottom of your store pages (depending on the page settings).

When you are in the Config page you must edit three drop-down menus (Default-item-template, Default-section-template, Default-group-template) and change Store-template to the new editable template.
As a result of taking these steps you now have the possibility to edit templates and to have all newly created pages under an editable template by default.
In our future articles we will discuss how to improve your Yahoo Store functionality by adding some small changes to the templates.
1) To add "Bookmark & Share" button to store pages, go to www.Addthis.com first and receive the code from there.
There is the example of such a code:
<!– AddThis Button BEGIN –>
<a class="addthis_button" href="http://www.addthis.com/bookmark.php?v=250&amp;username=xa-4c3eff9c2b54f517″><img src="http://s7.addthis.com/static/btn/v2/lg-share-en.gif" width="125″ height="16″ alt="Bookmark and Share" style="border:0″/></a><script type="text/javascript" src="http://s7.addthis.com/js/250/addthis_widget.js#username=xa-4c3eff9c2b54f517″></script>
<!– AddThis Button END –>
Note: If you want to get the sharing statistics, you have to register on addthis.com.
2) Create a global variable -share-code (med-text) and place and paste the code into it. See more details here: http://www.alphastoredesign.com/blog/2010/03/11/how-to-add-global-or-local-properties ).
3) Open a list of store Templates. Then find custom Item-order template.


Click on it and open.
Find the RTML expression:
WHEN

 

OR


       

@price


       

@sale-price
Click on WHEN.
Click the "New" button and create a TEXT operator. Then click the "Paste After". After this click the "EDIT" button and set the value of TEXT operator to @-share-code
After these simple procedures the "Add This" button will appear on every item page near the "Add to Cart" button.
Within Yahoo Store RTML Template, this operator is showing as:
BLUE nil
The operator takes color value and returns its blue component of RGB (red green blue) color model in numeric value between 0 and 255.
EXAMPLES:
  

WITH=

 variable 

blue


        value 

BLUE

 

@background-color


    

WITH=

 variable 

red


          value 

RED

 

@background-color


      

WITH=

 variable 

green


            value 

GREEN

 

@background-color


        

BODY

 background-color 

COLOR

 red 

red - 20


                                    green 

green - 20


                                    blue 

blue - 20
At this example, we took Red Green and Blue color components from the global variable @background-color. Then, we are using these components to make the body background darker.
An year ago, Facebook implemented a "like" button that let users share content that they approve of with each other. 3rd party websites are now also capable of implementing this button so that the site could get more attention on Facebook. These codes will show customers which of their Facebook friends have liked or visited your website.
http://news.cnet.com/8301-1023_3-10160112-93.html
You could use 2 ways to install the Facebook "Like" button at your store:

1) To enable a new Yahoo Social Media Sharing feature by yourself.

See more info here: http://help.yahoo.com/l/us/yahoo/smallbusiness/store/edit/social/social-03.html
If you are experiencing a difficulties to setup or customize the feature's appearance on a page, then:

2) We could setup the Yahoo feature or to setup our version of it, based on XFBML fb:like tag and Facebook's JavaScript SDK with Open Graph protocol. We could implement the button at any position on a page, depending on page design and customize it as necessary.
Note: For both versions you have to obtain the Facebook Application ID.

See more info here: http://help.yahoo.com/l/us/yahoo/smallbusiness/store/edit/social/social-06.html

You can find an example of this feature setup at : www.holytrinitystore.com, www.hello-gorgeous.net (drill down to Item pages to see).
Storeowners who use flat rates, custom rate tables, or other custom methods, are able to define "Free shipping" by adding new conditions to previously defined rules. But how does one define "Free Shipping" if one is using UPS' built-in methods (UPS Real-Time Rates)? How does one set-up rates that are followed by a statement that says: "Free ground shipping over $100 of your order"?
It's pretty easy:
1) In the Store's Shipping Manager go to: Store Manager > Shipping Manager > Ship Rates
Click the "Add Rule" Button, Select location, then on the next page select the UPS Ground method (or any other listed methods based on your preference). Click "Next".
2) On the next page select the "Rate Table" radio button and proceed to the next page.
3) On this page select "TAXABLE_AMOUNT" from the first select box and then change the second line of the table with these following statements:
a) From: 100 (do not write the dollar/cents sign)
b) Add: -5000.00 (input a large negative value to override any possible shipping charges calculated by UPS)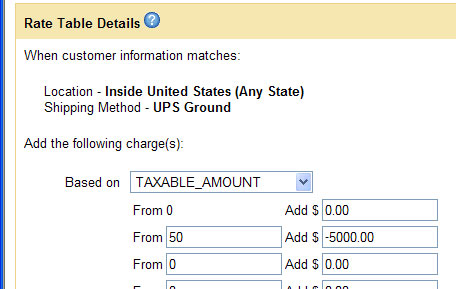 4) Click "NEXT". On the next page do NOT check the box "Apply ONLY this rule, even if other rules match".
Click "Done". Now you will see that the newly created rate table has been added to your list of Shipping Rates.
To test the new rule, go to "Shipping and Tax Test" page, select the "UPS Ground" shipping method, click "Calculate" and review the result.
Please do not forget to clearly explain a "free shipping" promotion to your store visitors. Add the appropriate notification to your store pages and to shopping cart pages.
If you would like to enhance the functionality of this option by having the ability to:
– Make it possible to show the notification text at your shopping cart pages upon different order conditions,
– Hide/show shipping methods depending on order "Ship To" address (i.e. display only "Second Day" if shipping to HI or AK),
– Exclude certain items from the "free shipping" promotion,
– Prevent placing orders with different shipping methods together in the same basket (i.e. item with the "second day" only method and item with "freight" method only),
– Display and submit a custom form at "Confirmation" page (i.e. "Prescription" form)
Please call us at 908-338-3992 or send us an e-mail to discuss your request or to talk about any other custom modifications.
By default, the Yahoo store system does not include a quantity box on its store pages. After a few changes in the RTML template it will be possible to apply this feature, and customers will then have the possibility to order more than one item.
First, make sure you have editable copies of your store RTML templates.
Now open the page with a list of store Templates.
Find the template that corresponds to adding the items to the shopping cart. Because it is a copy of a default template called add-to-cart, it will be named something such as, your-store-add-to-cart. Click and open it.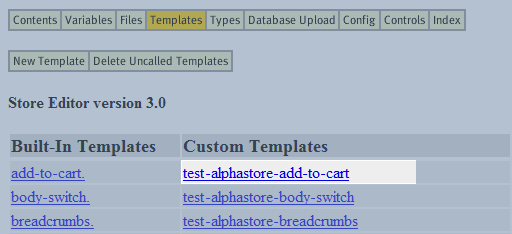 Now you will see the template content. At this point, we recommend you make a copy of your existing template by clicking the Copy Template button (just in case if you need to restore it).
At the top of the template content click the operator "IF". It will become active (not linked, black colored).
Click the button [NEW] at the toolbar. There you will see a selection field called "Complex", scroll within it to find the operator "INPUT".
Click the button [CREATE]
The newly created operator will appear in the "basement" area, below the template content. We need to place it before the recent operator IF.
Now, "IF" is active. "INPUT" is in the basement. Click the button [Replace] in the toolbar. These operators will then rotate their places: "IF" will go to the basement area, "INPUT" will become the first operator (active). Now click the button [Paste After] and then "IF" will be replaced after the "INPUT".
The last step is to customize the operator "INPUT".
Click it to make it active. Click the button [EDIT] in the top toolbar. Define the following values:
Name – :vwquantity
type – :text
value – 1
maxlength – 3
size – 3
Click [UPDATE]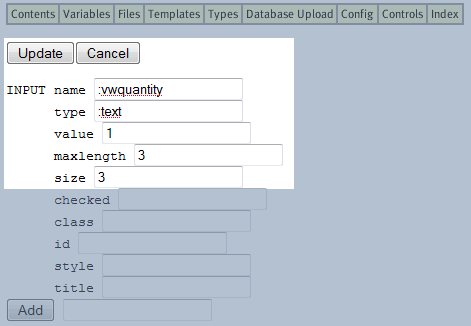 All done. The quantity box will now appear at your store item pages.